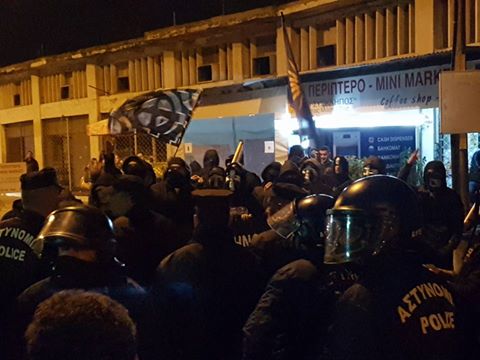 Last Tuesday, following the bicommunal pro-Reunification event that took place in Çetinkaya's football field, and while the attendands were leaving, a small pathetic group of fascists
showed up
under police protection. They
wore masks which covered their faces
, carried Greek flags, and they verbally abused anyone who didn't agree with their
grand
vision
for
Partition. After some 30 minutes of showing off their ridiculousness, they left. 
It is certainly interesting that an event for peace and reunification, the contents of which included songs and poems, was considered disgusting enough by fascists to make it a target of their attack. Their precense, of course, doesn't surprise us. It is expected that a
ll kinds of fascists
will try to terrorise the wider society with stunts like this. It is not an isolated incident, since it follows a series of fascist attacks
which have also been
recorded lately, such as the attacks on Turkish Cypriots passing outside the APOEL fanclub, at the Ayios Dometios (Ay Demet) crossing point on the day of the last bicommunal event, and the inscription of insulting and mispelled slogans on the walls of buildings belonging to the Pancypriot Federation of Labour (PEO) and of the United Democratic Youth Organisation (EDON) in Limassol last Tuesday. 
It is clear that if the society continues to allow fascists to exit their hideouts, they will increasingly intensify their attacks in
their
attempt to terrorise
people
. For us, what is at stake is precisely
this,
not to
allow them to
terrorise
. We will
continue our struggle for peace and the reunificaton of Cyprus publicly and on the streets, and we will intensify it
.